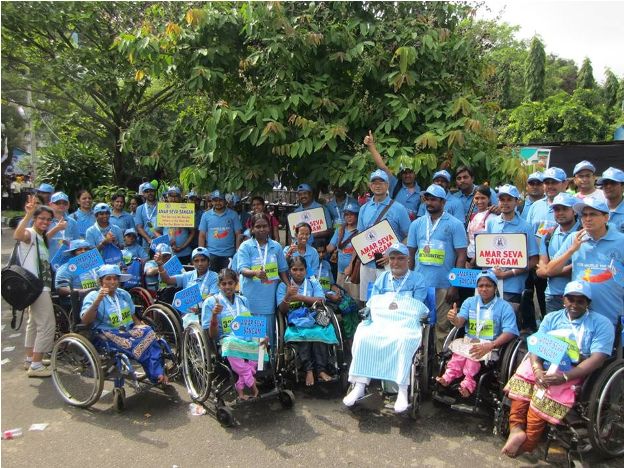 Donate for Post acute care centre for Spinal Cord Injured Person
June 15 2014 04:55 AM.
TCS WORLD 10k RUN - BANGALORE ​​
One of the most prestigious fundraising events in which Amar Seva Sangam is involved everty year, is the TCS World 10k Run at Bangalore.
This year, along with several volunteers, our Honorary Secretary S. Sankara Raman will be participating in the 10k run for the cause of post acute care for the spinal injured.
The Post Acute Care Centre of Amar Seva Sangam, opened in 2008, takes care of post-surgery rehabilitation needs of Spinal Cord Injured persons from all over India.
After surgery, in which all the bone related issues are duly taken care of, depending on severity of Spinal cord injury, they may be bed ridden most of the time and with less change of going back to their earlier profession. Hence, their rehabilitation needs are comprehensive from counselling to infuse confidence, physiotherapy, sports, yoga, meditation and occupational training.
This centre initially had 12 beds. Due to growing demand, it was subsequently made into a 16 bed centre. The Centre is fully equipped with a multi-gym, hand action equipment, tilting tables, standing tables, parallel bars, wheel chairs and tricycles, and separate rooms for physician consulting, nursing and exercising.
His fund raising efforts have been exceedingly successful in the past due to overwhelming support from concerned and generous individuals like you.
We would be honoured to receive your support this year for the event. You can donate to various sponsorships that would help spinal cord injured persons, as below :
​
SPONSORSHIP (Per Month)
AMOUNT(RS.)
Sponsor a spinal cord injured person
21,000
Sponsor post discharge livelihood assistance
20,000
Sponsor post discharge home modification
12,000
Sponsor medical and nursing care
6,000
Sponsor utilities and stay OR caregiver OR vocational training OR Physio and rehabilitation
3,000
​
We would be highly obliged for your esteemed support.
In case you need any clarification kindly contact us.
Yours in Lord's Seva,
S.Sankara Raman
Hony. Secretary
Amar Seva Sangam
10-2-103B, Sulochana Garden
Tenkasi Road
Ayikudy – 627 852
Tirunelveli District
Contact nos.: 08883790610 / 09994064881
Email: mail@amarseva.org / secoff5amar@gmail.com / secoff4amar@gmail.com