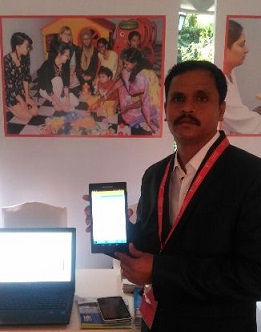 Support Ram to attend WFOT
January 16 2018 09:34 AM.
Support Our Staff Mr. Ram to attend WFOT Congress in South Africa
Mr. Ramasubramanian a physiotherapist by profession with more than 12 years of experience and who is the head of the Physiotherapy department in Amar Seva Sangam is now invited for a poster presentation at the World Federation of Occupational therapy congress which is going to take place in Cape Town South Africa on May 21
st
to 25
th
2018 and needs sponsorship to cover his travel expenses. He is the a Co author on two abstracts "
Capturing service users' goals in an early intervention program in South India" and "
Building sustainable fieldwork partnerships between Canada and India: Implementing common goals identified by an evaluation employing the Working Group on Ethics Guidelines for Global Health Training (WEIGHT) guidelines".
This work is related to collaborations with Canadian occupational therapy students and volunteers. There were many proposals submitted to the conference and so it is a great honour to have had two selected for presentation.
His experience in Amar Seva Sangam includes monitoring and managing the work of the entire rehabilitation professional team for both institution-based rehabilitation (IBR) and village-based rehabilitation (VBR). The team includes: 20 PTs, 2 OTs, 16 Speech trainers, 36 Community Rehabilitation Workers and ancillary staff. He coordinate the clinical fieldwork placement experience of physiotherapy and occupational therapy students from 9 different North American universities at ASSA. He also coordinate visits, volunteer and research experiences for Canadian university faculty and rehabilitation professionals (OT, PTs) at ASSA. In the past 3 years, He have coordinated 78 student, faculty and professional visits lasting from 4 to 12 weeks each.
Being a physiotherapist, He would like to take this unique opportunity to attend the WFOT conference to enhance his own education and thus improve services at ASSA. It is an opportunity to participate actively to learn the different practices of occupational therapists worldwide. He can share his knowledge with people from various countries and learn from their experiences in the field of rehabilitation. He will learn about recent research in the field of rehabilitation relating to rural communities then apply relevant knowledge for use at our organization. We hope he will get more knowledge about recent trends in occupational therapy services and their roles in modern rehabilitation. Rehabilitation is about team work for the benefit of the clients. The more knowledge he has about OT services will lead to more collaborative work with ASSA's OTs and volunteers and for service users at ASSA. He will meet many OTs and other therapists from different countries at Congress and gain different perspectives from different people, which may be relevant to apply in our organization.
Being the primary coordinator for the clinical occupational therapy and PT student placements, attending the WFOT Congress will allow him to learn more about the practices of occupational therapy and rehabilitation in the countries the students come from and contribute to improvements in how the placements are run. With more cross-cultural knowledge and up-to-date evidence, these improvements will result in improved occupational therapy services for clients. He can learn about the expectations and culture of OT in the countries students come to us from, and this would help improve their placement experience.
Attending this international conference would give him the opportunity to develop his skills further in presentation, documentation, inter professional relationships, planning intervention strategies and collaborating with occupational therapists to improve client outcomes.
The budget for the trip including flight, accommodations, conference fees, etc. is about Rs.3 Lakhs
. Therefore, he requires external support to make this trip happen. He also has applied for funding through the conference grant program, but there is no guarantee he will receive funds from them. With some fundraising and your support, we hope to fulfill his dream of attending and presenting at this conference.
Thank you for considering supporting him to attend this conference.
Yours Truly,
Amar Seva Sangam