institution based rehabilitation
Home for Children
Physically challenged children from the age of five to seventeen are provided with free shelter, food, clothing, medical aid and appliances at our Home so that they can pursue their education at our School without any financial worry. If they opt for higher education outside the campus, they are also provided free transport. The children are also given special coaching.

This unit was started straight from the formative days of Sangam in 1981 with just 5 children in a thatched shed. A separate block called Mahatma Gandhi Block was constructed in 1997. While the boys sleep here, the girls live in a separate room in Ladies hostel at the adjoining block. Mahatma Gandhi block has a large multipurpose room used for Reading, yoga, prayer and recreation and also to house the boys. There is also a small play area in the front with swings and other appliances.

We attend to the needs of around 50 children with loco motor disability and associated problems. The children are grouped according to their age into 5 groups. Each group has an exclusive Child development worker and Care taker.They have allotted time schedule for physiotherapy and play therapy in our Medical Testing Unit in morning / evening batches.

Our inmate children have won 11 times in a row in State level championship in sports for physically challenged conducted by Tamilnadu Handicapped Federation Charitable Trust, Chennai.

More than 200 children have completed their studies and left the home so far. Many of them are gainfully employed and settled in their lives.
Sangamam School for Special Children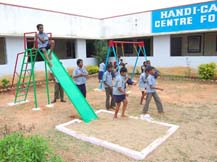 Sangamam literally means integration. In this school meant for Special children in the age group of 6 to 16, we try to prepare them to get integrated gradually with the society at large to the extent possible in each case.Special children term covers broad categories of Mentally Retarded, Cerebral Palsy and Autism affected. Their "Special needs" is a broad umbrella under which a staggering array of diagnoses can be fitted. Children with special needs may have mild learning disabilities or profound cognitive impairment; food allergies or terminal illness; developmental delays that catch up quickly or remain entrenched; occasional panic attacks or serious psychiatric problems. The designation is useful for getting needed services, setting appropriate goals, and gaining understanding for a child and its stressed family.

Children with special needs learn more slowly than a typical child. People with mild intellectual disability are capable of learning reading and get mathematics skills to approximately the level of a typical child aged nine to twelve. People with moderate intellectual disability need considerable support in school, at home, and in the community in order to participate fully. While their academic potential is limited, they can learn simple health and safety skills and participate in simple activities. Our special children are also provided training for behaviour modification through special education techniques. The kids are trained in daily living skills such as eating, dressing, grooming, and toileting so that they can attend to their daily needs with more confidence as the ordinary children of their age group.

In 1997, a day care centre was started with just 9 children and 2 teachers. What was initially only a spastic center has now grown into a full-fledged preparatory school for special children with 8 class rooms attending to more than 80 children.

The children are brought to school by our own bus. They are provided free uniform, nutritious lunch, biscuits and milk. They are trained in daily living activities, behavioral science, self-care, basic reading, writing and vocational skills. Rehabilitation services like Special education, Physiotherapy, Speech therapy and Yoga are also part of the curriculum to improve their health and intellectual ability.

We have handled more than 160 Special children so far since inception, out of which around 40 have been successfully mainstreamed to our General school.
Orthotics Centre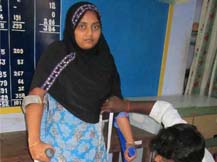 Orthotics centre manufactures, repairs and services mobility aiding appliances for physically challenged to empower and restore their dignity. The services are rendered free not only for our inmates, but also for others who seek our assistance.

We manufacture a wide range of appliances including PVC and metal calipers, crutches, shoes, chappals, artificial limbs cock-up splint and elbow splint. We also service wheel chairs and Tri cycles.

The beneficiaries are encouraged to try out the appliances at our special track replicating real life situations including slopes, curves, road bumps and even potholes.

So far, more than 4,000 new appliances have been manufactured and distributed free to deserving people. More than 17,000 appliances have been repaired without any charges.
Medical Testing Unit for Disabled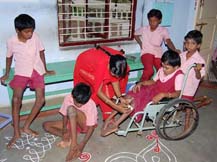 Medical Evaluation Unit is the nerve center for all rehabilitation activities and is extensively used by all challenged.
Its activities include:
1. Providing physiotherapy services to patients with neurological as well as orthopedic issues. Cerebral palsy, Stroke and all other pain conditions are also addressed.
2. Conducting awareness programs for patients with stroke and parents of children afflicted with cerebral palsy.
3. Conducting training programs for Physiotherapy assistants and child development workers.
The infrastructure includes fully equipped Electro therapy room, Gait workshop, Child development care unit, Special education room and Exercise therapy room.
The center is open for outpatients from 9.30 AM to 1 PM. In-patients use the services as per pre-designed schedule throughout the day without affecting their normal routine.
This also has a Child developmental care unit, an exclusive section for babies who may need physiotherapy attention right from the early stages. Children with cerebral palsy are also given suitable Physiotherapy.The unit's approach is modern and uses items like soft mattresses, mirrors and specific play materials for children apart from latest rehabilitation techniques.
International students visit us from time to time as part of their academic field work and assist us in Physiotherapy and Occupational therapy. Thus there is a healthy exchange of information and experience.
On an average, 20 outpatients and 75 in-patients are treated every day.
Spinal Cord injured Post Acute Care Centre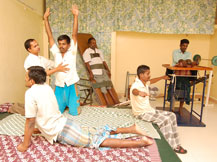 Spinal Cord Injured Post-Acute Care Centre takes care of Post-surgery rehabilitation needs of Spinal Cord Injured. The centre provides indispensable service to economically disadvantaged individuals who have sustained severe spinal injuries.

Spinal Cord Injured are mostly Accident victims – Road as well as Work place. Depending on the extent of injury, they could be Paraplegia or more serious Quadriplegia or other variants of these. Paraplegia and Quadriplegia patients undergo initial surgery in which all the bone related issues are duly taken care of. Depending on severity of Spinal cord injury, they may be bed ridden most of the time and also without any livelihood chances of going back to their earlier profession. They develop bed sore and related problems due to immobility.

Hence, their rehabilitation needs are comprehensive spanning over counselling to infuse confidence and intense regiment of physiotherapy and occupational training that relate to self-help skills including bladder control and then mobility restoration to the extent feasible. Many regain full or partial usage of limbs depending on severity of injury to spine. The rehabilitation treatment is quite long drawn and may spread over 6 to even 18 months.

Our treatment protocol is as follows:
Physiotherapy for 3 - 4 hours daily, including stretching and strengthening exercises and skills training.
Yoga and meditation for 1 hour daily.
Play time with other residents with spinal cord injuries for 90 minutes every evening.
Vocational training.
This Centre has 7 rooms with 16 beds for patients. It is fully equipped with Multi Gym, Hand action equipment, Tilting tables, Standing tables, Parallel bars, wheel chairs and Tricycles.

A family member also stays with the patient as Attendant during the entire phase of rehabilitation.Throughout their stay, the patients are given free accommodation, nutritious food, treatment, essential medical care and training.

After a patient is discharged, a Social worker visits them to followup on the progress made and also advises the family members on ways to handle the patient's needs further. Total number of patients admitted, treated and successfully discharged so far amounts to around 60.
Disabled Youth Trainee Students Hostel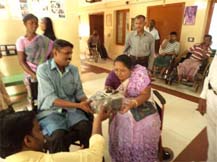 This centre aims to help disabled individuals in different disciplines to get gainful employment to suit their physical abilities. They are provided free boarding and lodging while they undergo vocational training in any chosen discipline. Vocational trades currently available on the campus include Tailoring, Desk Top Printing, Typewriting, Mobile and Home Appliances repairing.They are also provided physio therapy in our Medical evaluation Unit to help keep fit to attend to their daily routines.
Rehabilitation Centre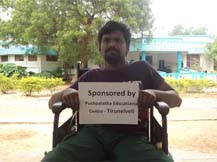 The Rehabilitation Centre within the campus provides number of support services like providing and/or assisting to get scholarship, free bus/ train pass, vocational training, artificial limbs, school fees, notebooks, wheel chairs, job placements and other services to needy physically challenged children and adults.

Scope of services covers Tirunelveli, Thoothukudi and Virudunagar districts of southern Tamilnadu. Objective behind this is to reach out to people with direct delivery of services where our Village Based Rehabilitation services have not reached yet. The Centre serves more than 2500 people every year.