From Nursery To Higher Secondary School: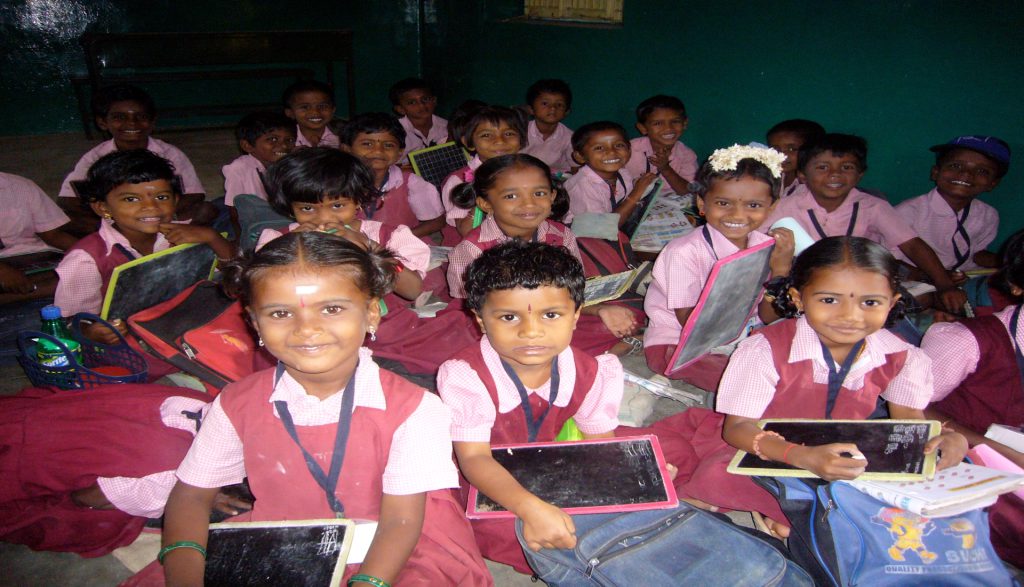 2010 - 2020 Students details
| School | Total students (nos.) | Differently abled students (nos.) | Yearwise breakup |
| --- | --- | --- | --- |
| High School | 3503 | 302 | |
| Primary School | 2301 | 248 | |
| Nursery School | 1891 | 34 | |
In Amar Seva Sangam, we have integrated school within our campus.
Our Nursery school was setup in 1981 It was upgraded to Middle school in 1991 and then elevated to the status of a High school in 2009. In 2015, we have commenced our Higher Secondary school operations. We cater to over 715 students inclusive of children with various physical and mentally challenges. 
12th Standard students in our inclusive Siva Saraswati Vidyalaya Higher Secondary School have successfully passed out in the exams held in March 2022, recording 100 percent success since its up-gradation to 12th Standard. There is a feeling of triumph in the fact that our intellectually challenged student, who joined our Sangamam School for special children ten years ago, has scored 446/600. She was a topper in her 10th Standard exams too. This is a boost to our pursuit of inclusive education.
To developing skilled personnel
Amar Institute Of Rehabilitation Science
We aimed at developing skilled personnel to work at the community level.
On identifying the needs for Rehabilitation programs, ASSA had established Amar Institute of Rehabilitation Science, with due approval from Rehabilitation Council of India, New Delhi, under the aegis of which, we are conducting the following Courses on rehabilitation from September 2012.
Every year an average of 10-15 men & women graduate from this course and offer their services in the community to differently abled.
We have got approval from RCI for running the following 3 Diploma courses. The courses offered are:

1. DECSE (MR) – Diploma in Early Childhood Special Education (MR)
2. DCBR – Diploma in Community Based Rehabilitation
3. CCCG – Certificate Course in Care Giving
Education For Empowerment
Study Centre for Distance Education
As part of our educational initiatives we also have Special Study Centre for IGNOU and Alagappa University for distance education.
The courses offered in IGNOU & Alagappa are:
MBA
MCA
MCom
BCom
BBA
BCA
BA
MA
BSc (CS)
MSc (CS)
Other Diploma & Certificate courses
The purposes of the above programs are:
To academically empower youth with disabilities in an integrated environment leading to degrees & diplomas.
To offer skill development opportunities.
To identify and develop persons with entrepreneurial aptitudes and social orientations with capacity building inputs.
To build capacities in persons already engaged in social sectors and to bring out educated and empowered people – both disabled and non-disabled for the benefit of society.
This is our new baby step – Skill development programme with the support of NSDC.
In collaboration with National Skill development Corporation (NSDC), we have started a programme called Amar Seva Saradhambal ITI.
60 students have been given admission in these courses.
Courses offered are: 
1.Cutting sewing.
2.COPA (Computer Operating and  Program Assistant)
3.DTP (Desk Top Publishing).
4.Smart phone service and App tester.
Vocational Training For Persons With Intellectual Disabilities
Theme of this project is creating livelihood to Intellectually challenged children.
Online DATA entry training for Persons with intellectual disabilities. At the age of 18 our Sangamam Special Children will be promoted to Sangamam VTC Program which is offered by the Bengaluru based IT company called AMBA which is empowering intellectually challenged children.
Training details: 
Structured program with computer and non computer activities.
1. Non computer activities:
  Letter identification, word matching, word formation
2. Computer activities:
  Painting, MS Word and Ms Excel