INSTITUTION BASED REHABILITATION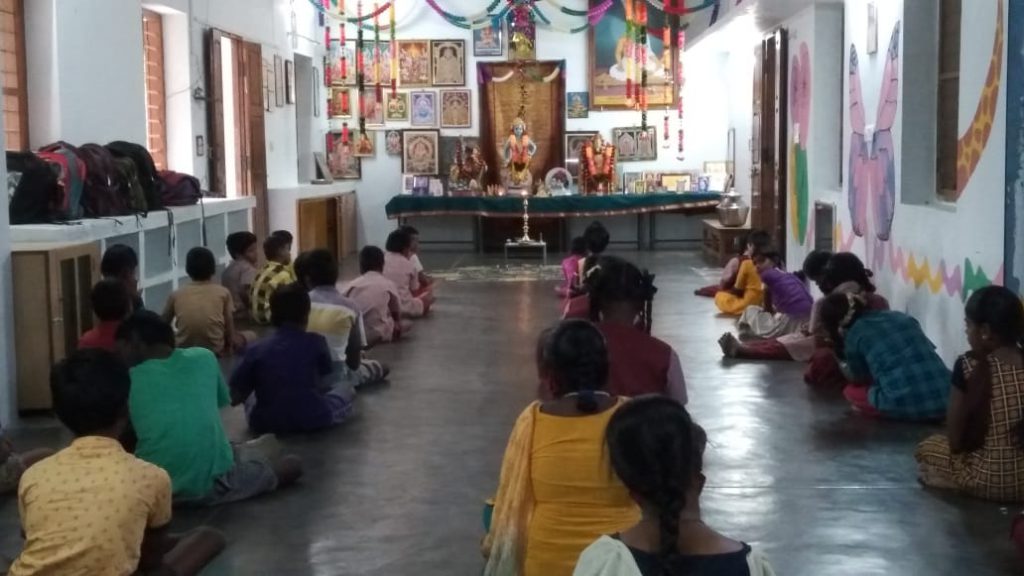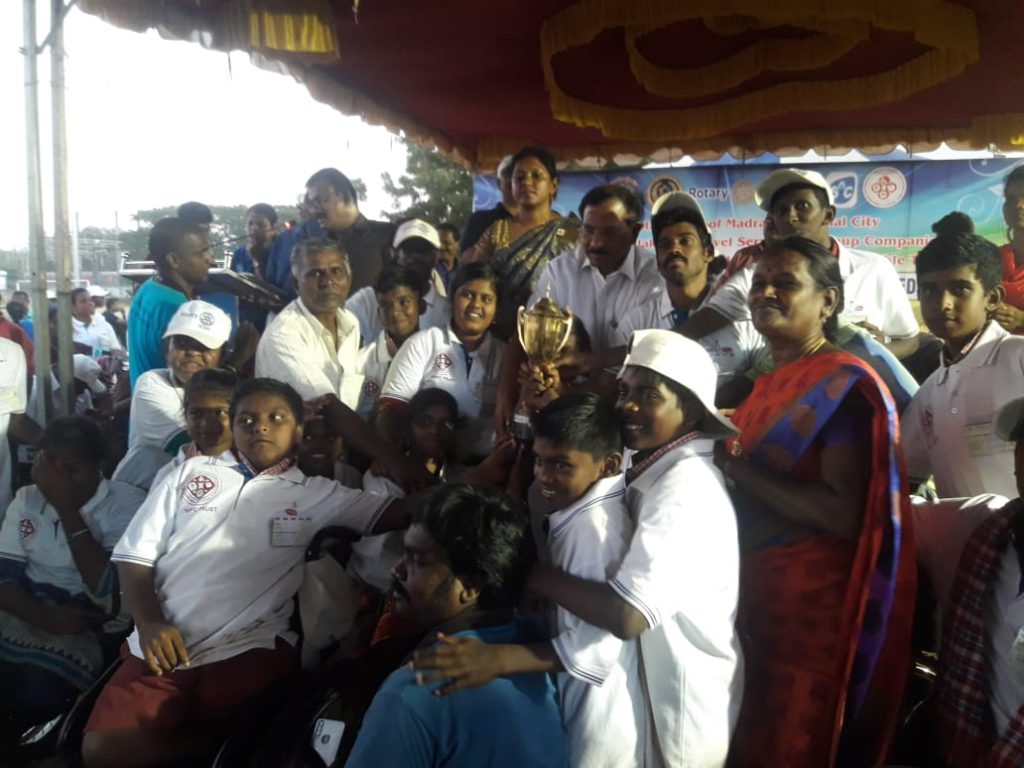 Since 1989, residential arrangements were made for the differently abled children to stay and study at the Home in Amar Seva Sangam.
Depending on the nature of the disability of the children, assistive devices are provided to them. Regular physiotherapy exercises are also given by the Physiotherapists and Child Development Workers to correct their physical disability and they are trained to do all the work by themselves without the help of others.
Mahatma Gandhi Block was built in 1997 for home children. In this building, arrangements were made for prayer, yoga, recreation and children's accommodation. There is also a small play area in front of Mahatma Gandhi Block which has swings and other play equipment. Classes like chess, keyboard, music and dance are also being conducted for home children.
Currently more 55 children are staying and studying here. More than 230 children have stayed here and completed their studies successfully and are doing well in various places as doctors, lawyers, Professionals in IT companies and public services besides a few serving as teachers and accountants in the Sangam itself. A student who had stayed here is presently studying second year of B.Com for free in Chennai Satyabhama University after completing Plus Two.
Disabled Youth Trainee Students Hostel
Hostels for the Disabled Youth Trainee Students were started in the year 1995. Here the youth students with disabilities are given training in various trades like, Type writing, Computer, Tailoring, Handcraft works, note book making etc. in the Vocational Training Centre. Amar Seva Sangam helps them to establish self-employment for their future life.
There are separate hostel accommodation facilities for both boys and girls with disabilities who are staying here.
Apart from the Vocational Training Centre, in the year 2020-21 Amar Seva-Sarathambal ITI was also started in which training like computer, mobile service, vehicle mechanical course is being given to qualified students.
Not only involving the Youth students with disabilities in learning vocational education, they are also trained in sports. Many people trained here are working as Government officials, teachers and self-employed.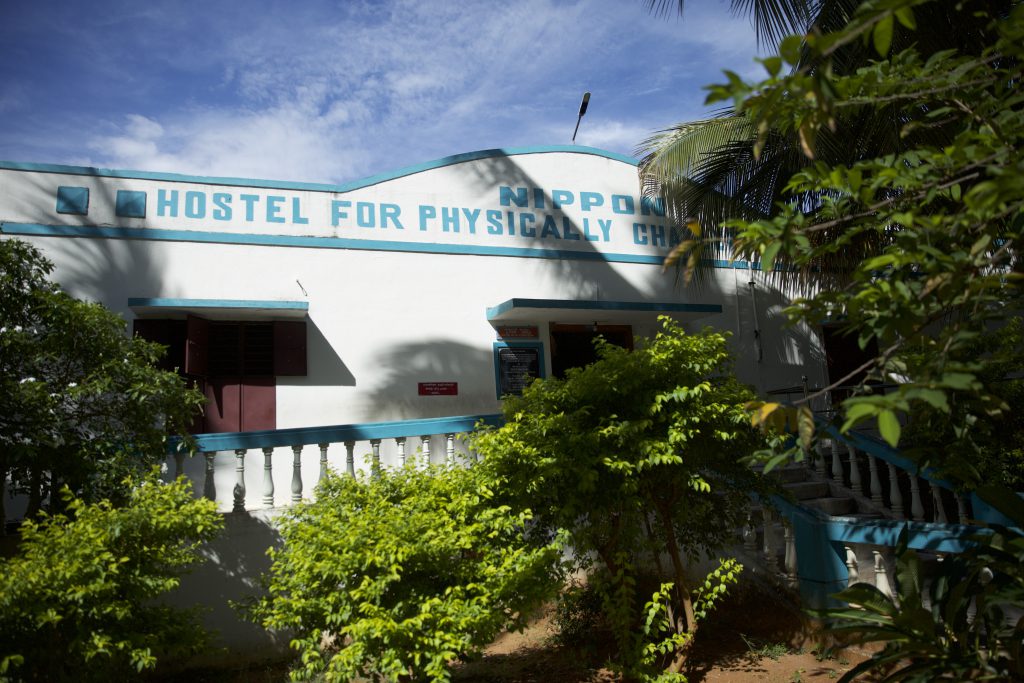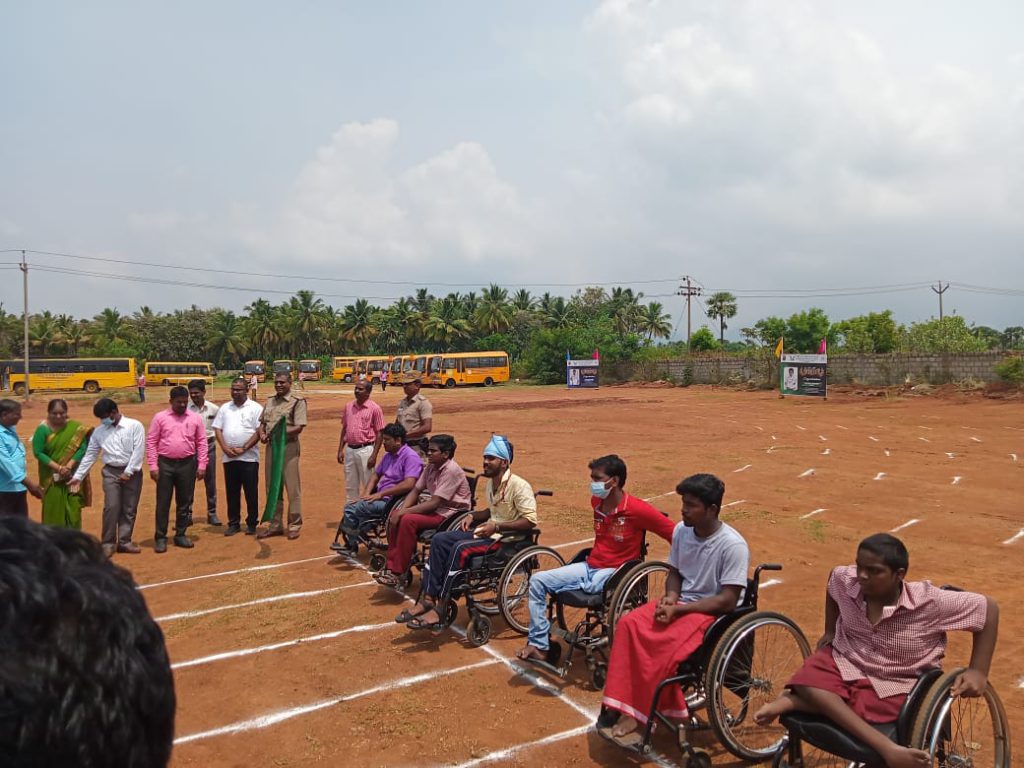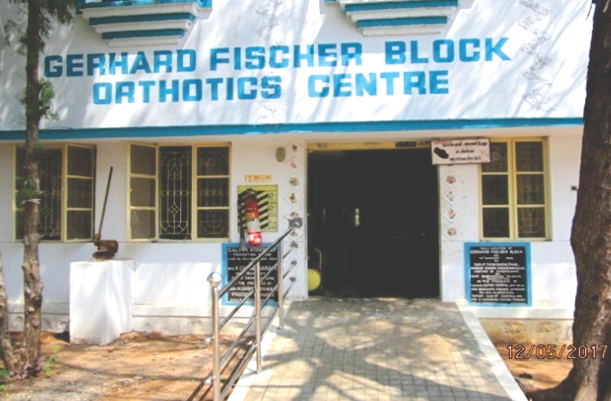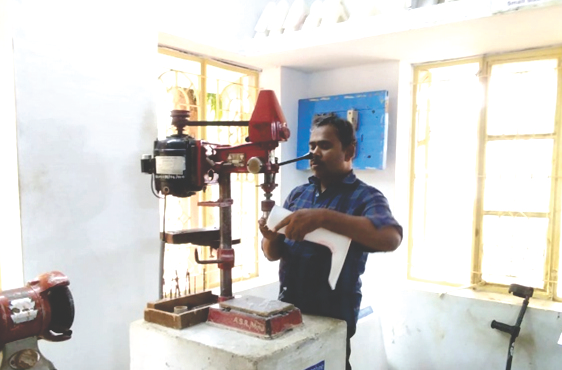 Initially people with disability had to go to Tirunelveli or Madurai to get their equipment fixed. The equipment could not be used effectively due to time lag and difficulty in traveling to such a place and it aggravated their disability. Hence ASSA started this unit in 1993 as a small workshop providing free repair services for Aids and Appliances.
Separate block was built in 1995, with generous help from Mr. Gerald Fischer from Germany. Modern production equipment and machinery were also added whereby we started manufacturing Aids and Appliances in unit apart from repairs. We now manufacture a wide range of appliances with duly qualified Prosthetics and Orthotics technicians. Our manufactured Appliances includes PVC calipers, metal calipers, hand splints, crutches, shoes and slippers, artificial legs and other specialized adaptive devices. We service all the above mentioned Appliances, wheelchairs and tricycles. We assemble all kinds of wheelchairs, walkers, crutches etc. and supply them to the needy.
Our Medical Testing Unit is a complete outpatient rehabilitation center, set up in 1998 with aid from Government of Japan with one trained physiotherapist. It acts as a nerve center that is extensively used by the families of physically challenged. This is quite a popular center where not only the physically challenged but also other rural population with orthopedic problems, stroke, and other neurological issues come to utilize the services offered by us. Initially, due to poor awareness about rehabilitation among people and short of equipment availability, the service users were few. Now we have 7 qualified physiotherapists, 3 occupational therapists, one speech therapist and one special educator delivering their services and due to awareness and availability of new advanced exercise and electrotherapy equipment, number of services users go on increasing over the years. All the facilities extended to the users are of at very minimal cost. We are providing comprehensive Rehabilitation which includes medical care, physiotherapy, occupational therapy, nursing care, psychological counselling, self-care activities, and mental health training. we also organize medical camps like orthotic and prosthetic measurement, eye camp, dental camp, corrective surgery screening camp, Ayush Medicine Camp for our service users and the public.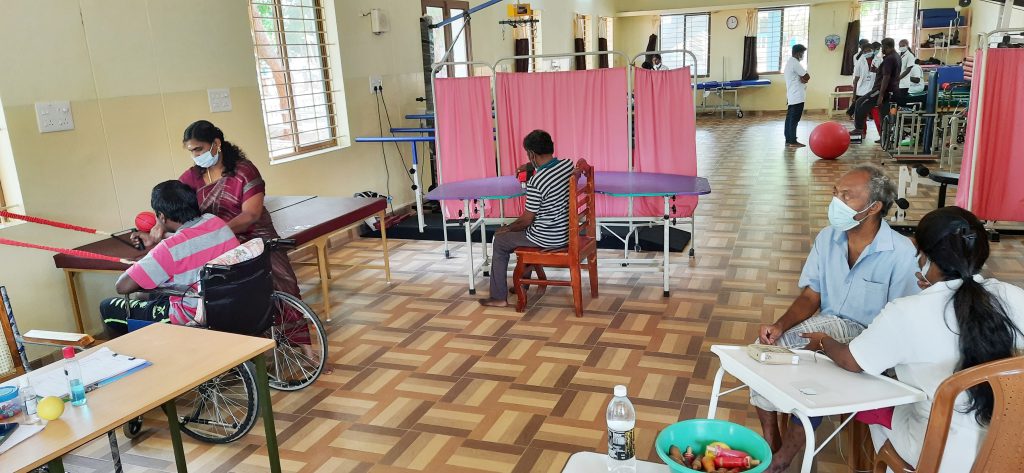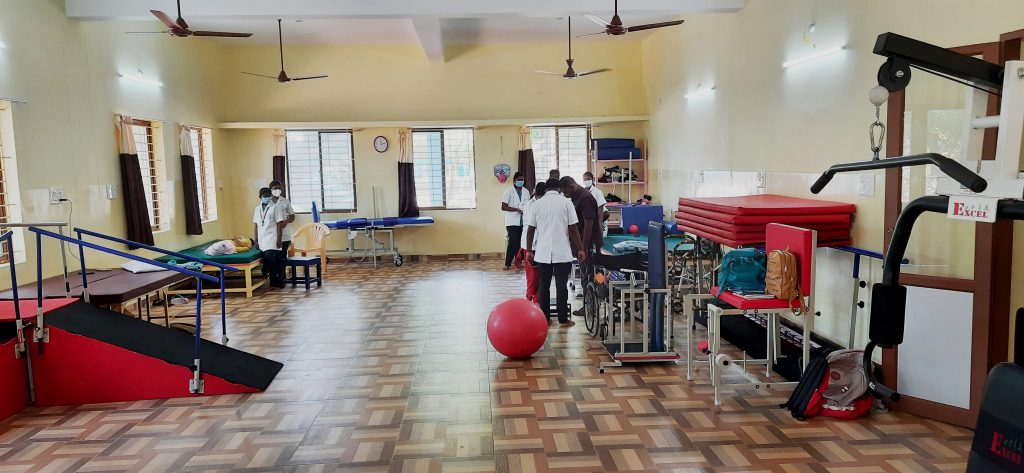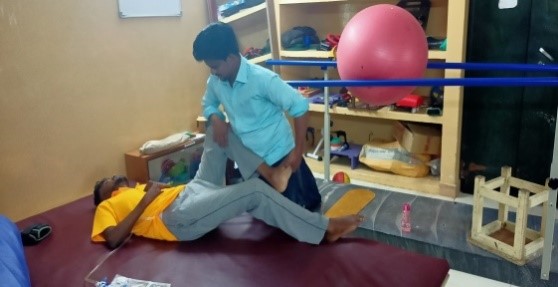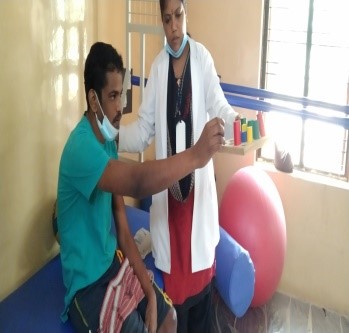 Post-Acute Care Centre for Spinal Injured
Post-Acute Care Centre for spinal injured persons was started in 2007. We are giving both medical and vocational rehabilitation for persons with spinal injury. We are providing comprehensive Rehabilitation which includes medical care, physiotherapy, occupational therapy, nursing care, psychological counseling, caregiving service, self-care activity, mental health training and vocational training.
Patients will be admitted based on admission criteria ranking and availability of vacancy in our center. The duration of stay at the Post-Acute Care Centre is between 6 months to 1 year, dependent on the level of disability.
We provide job opportunities to patients through vocational training in order to facilitate increased independence upon discharge.
This center also provides facilities to address the psychological needs of patients with spinal cord injury and provide recreational options to patients in order to offer further physical therapy and improve patients' mood following spinal cord injury.
Residential Programme for Special Needs Children
It was noticed that in and around Ayikudy village, with a radius of 30 kms, there were quite a few special children, hailing from poor economic background, needed attention. In 2013, Amar Seva Sangam decided to set up a Centre for such children who could be given special education, physiotherapy and speech therapy in their Sangamam School. Mental health developments not matching the normal growth of persons, below par intelligence quotient, below par in activities of daily life and lesser growth of the brain as a person at the teen age, say 18 years, are symptoms of mental retardation. Special education is totally different from the normal education. It is a systemized special education for below par students/persons and the lessons are framed and taught as per the individual's need in order to rehabilitate them in their intelligence ability as to their age, attending to their daily routine like hygiene in food habits, dress changing, toileting etc to increase their intellectual level to integrate them into the society.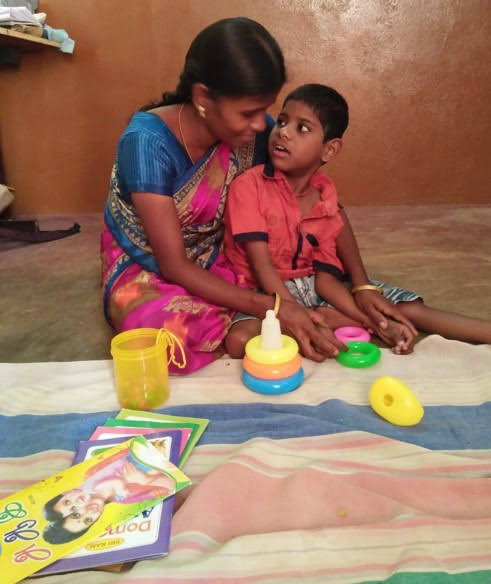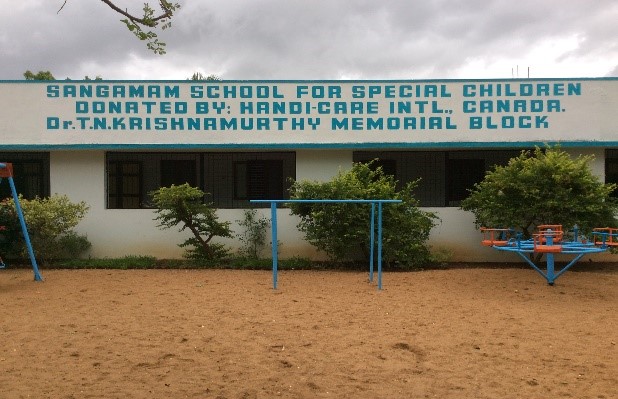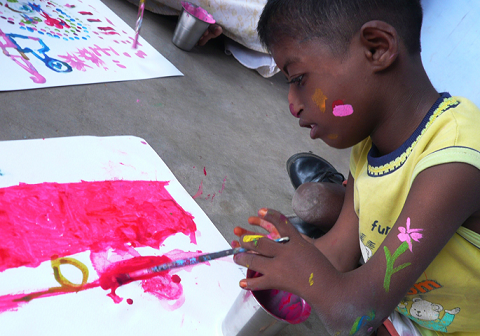 Sangamam School for Special Children
Sangamam literally means integration. In this school meant for Special children in the age group of 6 to 16, we try to prepare them to get integrated gradually with the society at large to the extent possible in each case.Special children term covers broad categories of Mentally Retarded, Cerebral Palsy and Autism affected. Their "Special needs" is a broad umbrella under which a staggering array of diagnoses can be fitted. Children with special needs may have mild learning disabilities or profound cognitive impairment; food allergies or terminal illness; developmental delays that catch up quickly or remain entrenched; occasional panic attacks or serious psychiatric problems. The designation is useful for getting needed services, setting appropriate goals, and gaining understanding for a child and its stressed family.
In 1997, a day care centre was started with just 9 children and 2 teachers. What was initially only a spastic center has now grown into a full-fledged preparatory school for special children with 8 class rooms attending to more than 80 children.
The children are brought to school by our own bus. They are provided free uniform, nutritious lunch, biscuits and milk. They are trained in daily living activities, behavioral science, self-care, basic reading, writing and vocational skills.  Rehabilitation services like Special education, Physiotherapy, Speech therapy and Yoga are also part of the curriculum to improve their health and intellectual ability.
Foster Parent Care Centre
Parents of special needs children always face uncertainty and fear regarding who will care for their child after their lifetime. The future looks bleak and it gnaws on every parent's mind. Since the special needs children are defenseless and dependent on their parents or care giver for many routine activities. This aspect has always been a great source of worry and concern for parent's.
At this juncture, we started Foster Parent Care Centre on 22nd April, 2021. Parent-Child counselling sessions are conducted periodically for the following reasons.
– The parents and children are trained to live together in a group setting or a family.
– Helping parents to come out of guilt issues for enrolling the child in a home when they are alive. The parents are counselled that the child has to be trained to live independently and perform their day to day activities.
– To make the service users tell their parents that they don't want to go home and they are finally finding acceptance and happiness among their own.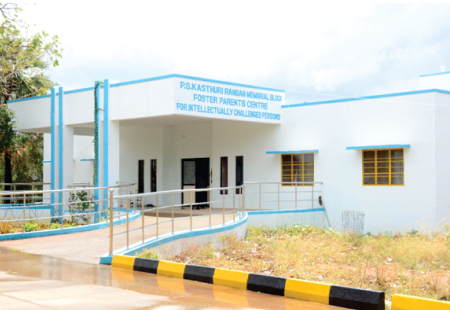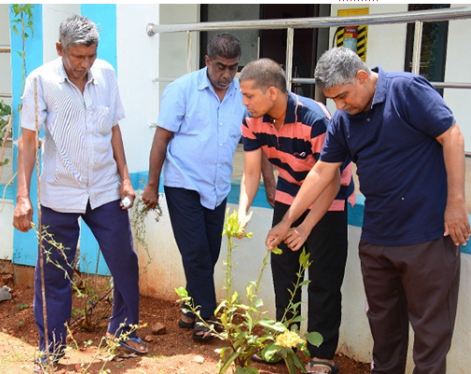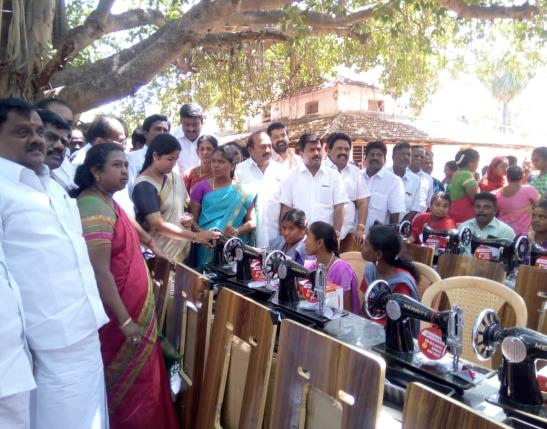 The Rehabilitation Centre within the campus provides number of support services like providing and/or assisting to get scholarship, free bus/ train pass, vocational training, artificial limbs, school fees, notebooks, wheel chairs, job placements and other services to needy physically challenged children and adults.

Scope of services covers Tirunelveli, Thoothukudi and Virudunagar districts of southern Tamilnadu. Objective behind this is to reach out to people with direct delivery of services where our Village Based Rehabilitation services have not reached yet. The Centre serves more than 2500 people every year.